WELCOME TO ZOECIA HEALTHCARE
Zoecia Healthcare is a Chandigarh-based, 2011 certified pharmaceutical firm with operations throughout India. The company is a quality-assured producer, supplier, dealer, and distributor of pharmaceutical medicines. Our primary goal is to create medications that will enhance patients' health and quality of life. Zoecia Healthcare is a top pharma company in Chandigarh that provides WHO and GMP-certified goods as well as monopoly-based PCD Pharma Franchises across India. For PCD Franchise, we are the top pharma franchise firm.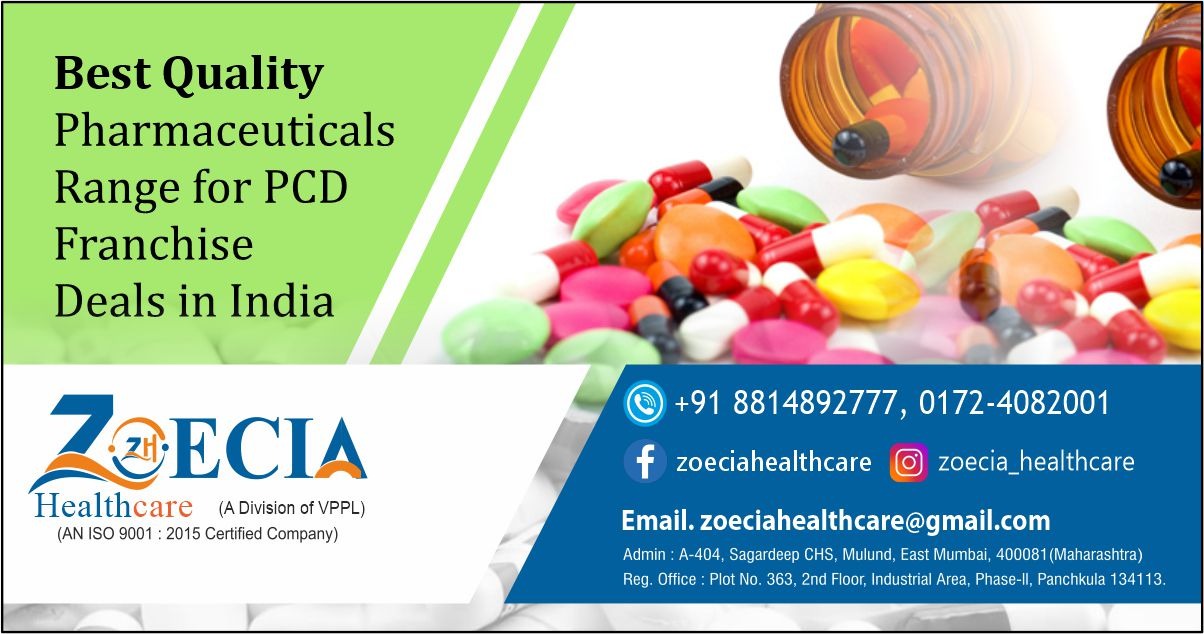 In India, Zoecia Healthcare is the leading pharmaceutical firm. We are one of the most reputable Pharmaceutical Drugs manufacturers, exporters, and suppliers. Our products are made under the supervision of a professional team of expert chemists and quality control personnel, and our facility follows WHO-GMP guidelines. As a result, purchasing a franchise from us is the ideal business prospect for you. In several parts of India, we provide pharmaceutical franchises, PCD franchises, Pharmaceutical Distributors, and Pharmaceutical Marketing Services.
Top Reasons for Zoecia Franchise Business Opportunity
1. Pcd pharma franchise .
2. Allopathic pcd pharma franchise
3. Pharma franchise in chandigarh
4. Pcd pharma franchise in Panchkula
5. Third party manufacturing in baddi
6. Top pharma pcd company in chandigarh
7. Neuro psychiatry pcd pharma franchise
8. Best pharma PCD company in chandigarh
9. Neuro Pcd Company
10.Pcd pharma franchise opportunity.
Why should you choose us?
We at Zoecia Healthcare are dedicated to improving healthcare medication via commerce trade. We are dedicated to establishing long-term business relationships with our partners. This is done on the basis of high-quality services at reasonable prices. We made quality important with total perfection and worked with honesty to serve our business partner and make their company more efficient.
Here are a few additional factors that make us the greatest choice for a Pharma Franchise:
We provide unique compositions that are produced with great care. That is why healthcare experts have faith in us.
Clients will get items packaged with exceptional quality, and things will be delivered within 24 hours.
We can provide you items at cheap pricing since we are in an excise-free zone.
Free promotional assistance based on research to give additional perspectives.
Transparency in our dealings distinguishes us as a reliable and ethical pharmaceutical firm.
Work on supplying the most up-to-date compounds and developing popular treatments.
Zoecia Healthcare is concerned about the quality of its medications and maintains a quality control team.
This is where you'll locate stuff that is 100% available.
All of the manufacture takes place in a WHO and GMP-certified facility.
PHARMA FRANCHISE
Zoecia Healthcare, a Chandigarh-based firm that manufactures, markets, and exports pharmaceutical formulations, has a PCD Pharma franchise in India.
We are a worldwide pharmaceutical firm certified in 2011. We specialize in producing high-quality formulations such as capsules, syrups, dry syrups, injections, ointments, soft gel capsules, and sachets
To satisfy the bulk needs of our customer, we have a well-developed infrastructure as well as a team of trained and experienced personnel
Our pharmaceutical items are GMP and WHO certified
Zoecia Healthcare is offering pharma experts who want to create their own firm the PCD Pharma Franchise opportunity
We provide corporate monopolies in certain areas, as well as distribution and marketing rights
We're seeking for experts that are knowledgeable, devoted, and experienced to provide them with distribution and monopolistic rights.
PROMOTIONAL TOOLS
Different promotional tools are available in our company:-
Visual Aid Sets
secure MR bags
Catch covers
Reminder Cards
Product at a Glance
Visiting Cards
gift products.
Benefits of our PCD Pharma Franchise
GMP-WHO certified production plants.
We adhere to all industry policies, including those of drug regulators, the World Health Organization, and others.
The Drug Controller General of India has given his approval to all of the items (DCGI)
Competitive, cost-effective, and time-saving pricing
We look after our members' health.
We have an online web portal that is accessible 24 hours a day, seven days a week.
Vacations, holidays, and other paid time off are examples of paid time off.
Dealings that lasted a long time, were clear, and were honest.
Medical updates on a regular basis through ADI and visual aids, etc
If you meet your regular goals, you'll earn a raise.
Please do not hesitate to contact us.