ALLOPATHIC PCD PHARMA FRANCHISE COMPANY
Introduction
Zoecia Healthcare, a WHO-GMP certified pharmaceutical firm founded in 2013, has quickly risen to become India's leading pharma franchise company. At Zoecia Healthcare, we take a "customer-centric" approach, focusing on the needs of our clients and striving to give the best in class goods, service, and value.
Our products are sweeping the market and are poised to become the company's hallmark brands. We also think that the only constant is change, and that ongoing innovation is the key to driving change. We've been delivering incredible business prospects across India by offering attractive PCD PHARMA FRANCHISE and THIRD PARTY MANUFACTURING.
Zoecia Healthcare offers a wide spectrum of pharmaceuticals, from Ayurvedic to Allopathy, as well as Nutraceuticals. When it comes to formulations, we have a lot of experience.
Our primary goal is to produce the highest quality product possible while adhering to all guidelines. However, if we look at the subcategories within each of them, we'll find a vast list of items such as
Softgels,
Capsules,
Tablets,
General Range,
Gynae,
Derma,
Anti-biotics, and so on.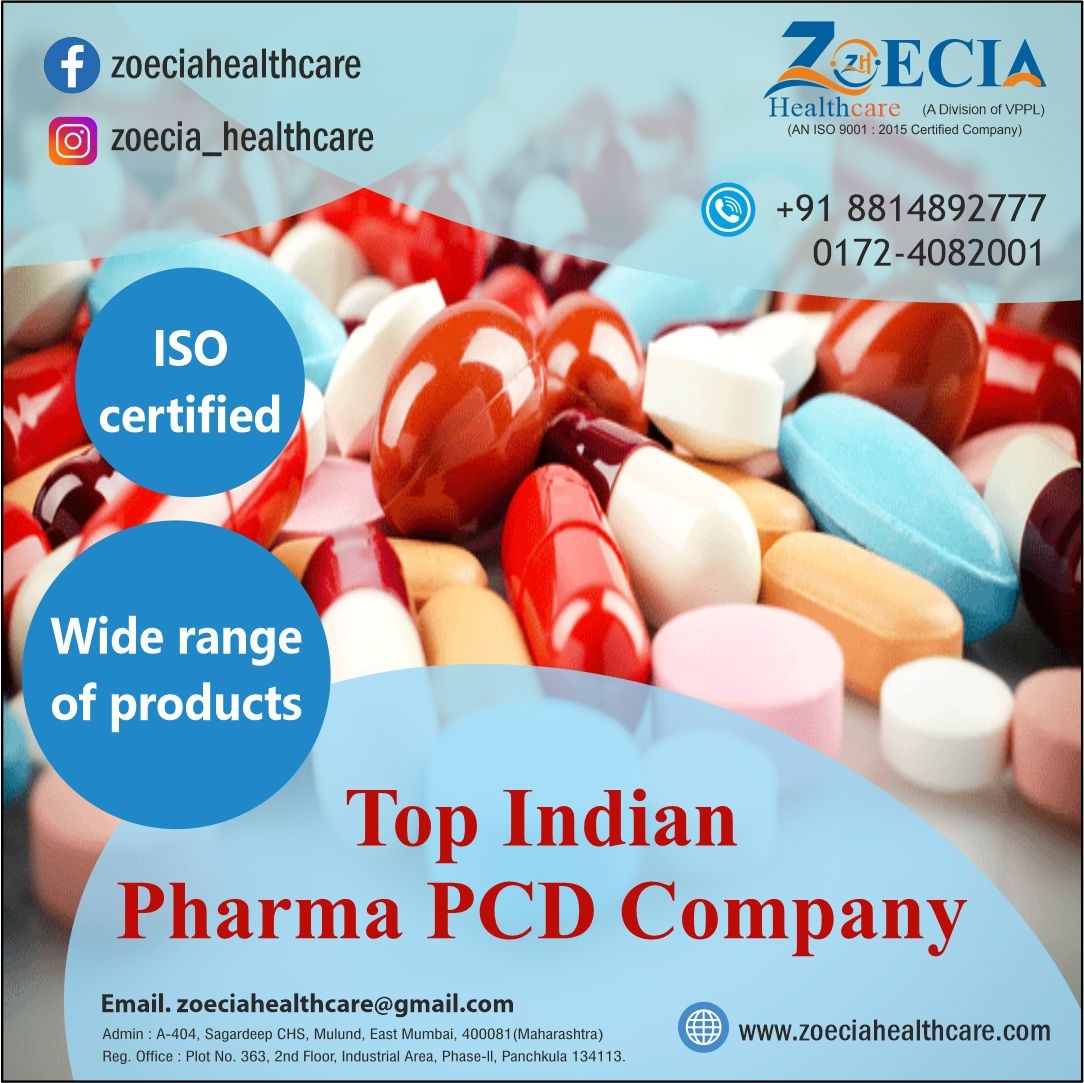 The Mission of Zoecia Healthcare
To be India's leading pharmaceutical company. Providing people with high-quality healthcare medications.
Our Purpose
The main mission of Zoecia Healthcare is authenticity and compassion.
Unit of Production
WHO and GMP certified manufacturing units produce all of the medicines.
Why Zoecia Healthcare – A Customer-First Approach
"Zoecia Healthcare" – an ISO 2013 Certified Company – was established in 2013 with the goal of revolutionising the pharmaceutical industry by providing WHO-GMP (best) grade products at reasonable prices to all Franchise partners.
This provides a fantastic business opportunity for all Franchisees, as they can get started with a small investment and earn a lot of money. Pharmaceutical Tablets, Pharmaceutical Softgels, Pharmaceutical Capsules, and Pharmaceutical Syrups are among the products offered by Zoecia Healthcare to its Franchisees.
Zoecia Healthcare uses high-quality ingredients and APIs to create these products. All products are known for their high efficacy, purity (free of harmful chemicals), hygienic packaging, and high quality.
Zoecia Healthcare is able to provide premium quality Pharmaceutical Products to our patrons and franchise business partners by utilising advanced processing techniques and high-tech infrastructure facilities.
We strive to provide the highest level of client pleasure at all times, so our products are thoroughly tested before being shipped.
Zoecia Healthcare is accepting PCD Franchise Business inquiries from all over India!
Zoecia Healthcare is a market leader looking to partner with like-minded franchise business partners who will represent the company as their own and help it achieve the best possible results in the pharmaceutical industry.
TOOLS FOR PROMOTION AND MARKETING
The company provides high-quality promotional materials developed by highly qualified professionals at no cost. All of the products are offered at the most affordable prices by Zoecia Healthcare.
Our products' world-class packaging ensures broad market accessibility.
Regularly, attractive offers and Turnover Incentive Schemes are launched to provide maximum benefit to all of our partners.
All of our products are made in our own WHO-GMP certified facility, ensuring the highest quality, purity, and efficacy.
DEVELOPING A PLANNING STRATEGY
All of our products are of the highest quality and have the industry's best efficacy as well as the longest expiration dates.
All of our products have the most up-to-date molecules and unique formulations, ensuring seamless planning..
Our partners benefit from having 100 percent stock availability at all times.
Anywhere in India, delivery within 24 hours
GUIDELINES FOR EXPERIENCE
At every step of the chain, strong management and highly experienced and efficient staff empower you and help you develop your business better and faster.
You can run your firm with ease thanks to strong processes and technologically advanced systems.
India's Allopathic PCD Company
India's Allopathic PCD Company – Allopathic medicines are commonly used to treat a variety of diseases and conditions. Several serious diseases are wreaking havoc on people today. As a result, as the demand for allopathic medicines grows, so does the demand for allopathic PCD Pharma Franchises. Zoecia Healthcare is India's best and most well-known allopathic PCD company.
We are able to meet the Allopathic PCD Company's market demand. Our company is an ISO-certified pharmaceutical contract manufacturer known for providing high-quality Allopathic medicine. There are several excellent reasons why we are the best PCD Pharma Franchise Company in the industry. We have a team of experts who are highly skilled and experienced in meticulously carrying out their tasks.
We have been providing high-quality pharmaceutical products to our consumers since our inception in this business, making us India's leading Allopathic PCD company. After earning the trust of so many people, it is now our job to provide our valued customers with the best business opportunity through a pharma franchise for Allopathic Medicine.
We wish to build our pharma business as quickly as possible by providing this fantastic business opportunity. Please contact us for more information about our products and services.
Allopathic PCD Pharma Franchise Benefits
PCD is a form of business strategy in which pharmaceutical companies manufacture their products under their registered trademark and look for pharma distributors or franchise partners to assist them develop their operations. PCD pharma franchise is a tried-and-true business strategy that has benefited not just the pharmaceutical sector but also the general public. It makes excellent pharmaceuticals and medicines available in the interior markets, which was previously unavailable.
Working with Allopathic PCD Company has a number of advantages. Here are a few examples:
You can make a lot of money in a short period of time.
This sector has a low level of investment.
The PCD pharma franchise business has a low-risk element.
You will be granted exclusive monopoly rights.
There will be little administrative costs.
Zoecia Healthcare is India's best allopathic PCD company.
The correct pharmaceutical contract development business is crucial, especially if you are new to the industry. If you're looking for a dependable and trustworthy pharma franchise company to assist you in starting your own business, Zoecia Healthcare is a great option. There are several great reasons why we are the best pharmaceutical franchise PCD company to work with. Here are some of our pharma franchise company's best qualities:
We are a pharmaceutical company with ISO certification.
Our firm has worked in the pharmaceutical industry for several years.
We have manufacturing facilities that are WHO and GMP accredited.
We provide our franchise partners with dependable promotional support.
Our PCD firm provides the highest marketing advantages.
We guarantee that our products will arrive on schedule.
We strive to provide 100 percent client satisfaction at all times.
Zoecia Healthcare Provides High-Quality Products
The most important aspect of our business is that we do not rely on anyone to formulate our pharmaceutical products. Our organisation has its own manufacturing facilities with cutting-edge technology and the latest machinery. It is spread out over a large area and can provide maximum output in the shortest amount of time.
We want to acquire the trust of our clients by consistently delivering our pharma product variety in a safe state. We also have a separate quality control department that checks the quality of each pharmaceutical product before it is released for sale on the market.
Why Should You Consider Zoecia Healthcare?
Zoecia Healthcare is India's greatest and most well-known allopathic PCD company. To meet our clients' needs, we deal in a wide selection of high-quality pharmaceutical items and medicines. We are a WHO and GMP-certified pharmaceutical company with ISO certification.
Our PCD organisation has a team of professionals who are highly trained and experienced in developing high-quality pharmaceutical products. Because of their high quality, all of our pharmaceutical items are in high demand. So, if you want to create your own pharmaceutical company, Zoecia Healthcare can assist you in establishing a successful and profitable firm.
Please submit an Enquiry through Enquiry form for PCD pharma franchise and Third party manufacturing.