PCD PHARMA FRANCHISE COMPANY IN CHANDIGARH
About Zoecia Healthcare
In addition to doing research and production for itself, Zoecia Healthcare also provides knowledge and facilities to Indian and multinational organisations for R&D and manufacturing initiatives. Leading pharmaceutical firms have turned to Zoecia Healthcare for its services because of its variety in chemistry, capabilities in drug delivery systems, and capacity to deliver consistent quality.
Zoecia Healthcare has aided numerous major multinational corporations in establishing cost-effective speciality chemical processes.
Zoecia Healthcare  uses its expertise to contract produce bulk actives and intermediates for top Indian and multinational corporations which turn to Zoecia Healthcare for contract formulation production, utilising its superior facilities and drug delivery system capabilities.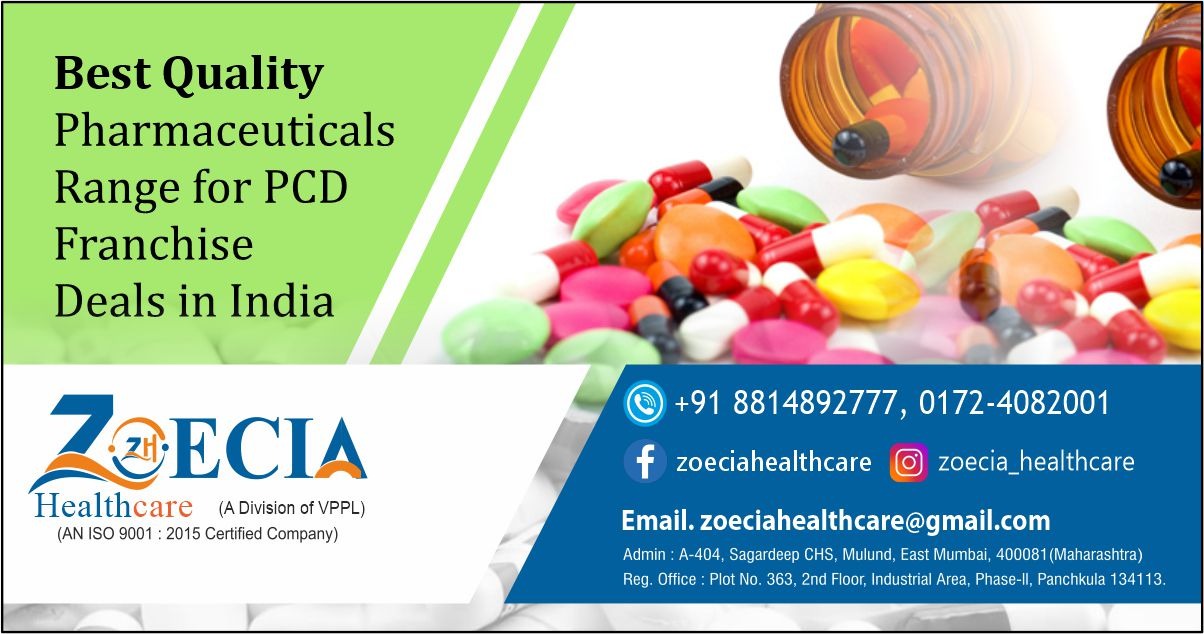 Who are we?
Zoecia Healthcare offers a one-of-a-kind combination of dependability and quality to the market. With WHO and GMP accreditation, we are known for producing high-quality, highly effective products. Analgesic Injections, Pharmaceutical Syrups, Antihistamine Tablets, Antibiotic Tablets, Soft Gelatin Capsules, Protein Powder, Ayurvedic Medicines, Ointments, Sachets, Neurology Injections, and Pharmaceutical Capsules are among the products we manufacture and sell.
Our R&D group works around the clock to develop medication that meets your particular needs. We provide high-quality items that are highly recommended by medical professionals. Our customer service is available 24 hours a day, 7 days a week for any assistance you may require, which is why we have such a vast clientele.
We are now able to take our flourishing firm to the next level and give you an incredible business opportunity as a result of our excellent job performance. You would have a hand in marketing medicines from all of the sectors of medicine in which we create products if you chose to become a franchisee. As we work to improve the quality of our products, we seek out entrepreneurs who can expand on our legacy and assist our products reach a wider audience. We grant monopoly rights to our franchisees in areas that generate a lot of money. We can also help you with promotional ideas and anything else related to our PCD services.
Zoecia Healthcare has a Pharma Franchise Business Opportunity.
Zoecia Healthcare is a Chandigarh based company offering Third Party Manufacturing and PCD Pharma Franchise services to the people who are interested to invest in the business dealing with pharmaceuticals.
Our motive is to provide the best healthcare to the people of PAN India and to be able to give them a future that is healthy and sustainable.
We are here to contribute our part to save mankind and by extending our services to improve the socio-economic conditions of the various states of our country.
We are planning to take over the pharma world by producing varieties of quality products including Pharmaceutical Syrups, Analgesic Tablets, Antihistamine Tablets, Antibiotic Tablets, Antiulcerant Medicines, Soft Gelatin Capsules, Protein Powder, and Pharmaceutical Injections, Ayurvedic Medicines.
We spare no effort to make multi-dimensional high-quality products with the help of professionals and various measures set by the quality analysts in the built-in laboratories.
If you are looking for a reliable and dedicated manufacturer of drugs for your company then here we are.
All the manufacturing processes are transparent so that you can inspect and get satisfied with the type of raw material or chemical extracts, we are using for the formulation of drugs.
We are presently working on to extend our services in all over India but soon we will start dealing with numerous international companies.
Zoecia Healthcare is soon going to be the brand name of the pharma industry and before that, we are here to help you to establish yourself and set your foot in this lucrative business.
How does Zoecia Healthcare Helps Our Business Partner to Grow ?
We at Zoecia Healthcare believe in providing our full support to our authorised dealers to help them settle and flourish in this business. We do this by providing the following facilities:
Free Promotional Support:
We supply our dealers with free key-chains, banners, note-pads, bags, etc. We ensure to give them all the pre-requisite essentials that will help them to publicise their business and attract more and more customers.
Monopoly Rights:
With our PCD Pharma Franchise we offer our customers with monopoly rights which help them to be the only one pharma holders of that state and without any interruption, they can make their empire.
Product Availability:
We provide 350+ varieties of products including medicines, tablets, drugs, ointments, etc. under one roof which will be available to you with various offers and discounts. There is always 100 percent product availability with our franchise owners.
Support and Guidance :
We are standing with our dealers 24*7 through thick and thin and act as a confidant to them.
Regular incentives:
Various incentives will be given to you after the completion of the target that is given to you by our Company.
Therefore, coming in business terms with us will always be a rewarding decision for you. There are low-risk involvement and huge profits which are waiting for you. Join us today and shape your future into a bright and successful one.
OUR PRODUCT LINE-UP
Analgesic Injections,
Pharmaceutical Syrups,
Antihistamine Tablets,
Antibiotic Tablets,
Soft Gelatin Capsules,
Protein Powder,
Ayurvedic Medicines,
Ointments,
Sachets,
Neurology Injections, and
Pharmaceutical Capsules
Please submit an Enquiry through Enquiry form for PCD pharma franchise and Third party manufacturing.