THIRD PARTY MANUFACTURING COMPANY
In India, Zoecia Healthcare is a leading PCD and third-party manufacturing firm. This is why we are always listed among the best PCD Pharma firms in Chandigarh. Each of our products is made in certified formulation plants that use high-quality raw pharmaceutical ingredients in the creation of high-quality medicines. As a result, all of our pharmaceutical goods are WHO-GMP certified, and we are a 2013 recognised firm that adheres to all national and international requirements.
"Zoecia Healthcare" is a major maker of a respectable and highly effective range of Pharmaceutical Tablets, Pharmaceutical Capsules, Pharmaceutical Injections, and Pharmaceutical Suspensions, among other products. At their high-tech processing labs, our products are produced with premium quality chemical components and advanced technology. The products on offer are sourced from industry-certified and reputable vendors that process them in accordance with established industry standards. We've been able to meet our customers' evolving needs thanks to our unwavering dedication to quality. We also provide Pharma PCD, Pharma Franchise, and Third Party Manufacturing services.
We have a dedicated quality testing unit staffed by qualified quality controllers because we are a quality-oriented firm. This unit extensively inspects the delivered medicines on a variety of aspects to ensure that the client only receives faultless products. We've set up a large, temperature-controlled warehouse facility to meet the storage needs of these medicines. Due to our ethical business methods, fast availability, delivery, affordable price structures, and client-centric attitude, we are consistently developing our business across the market.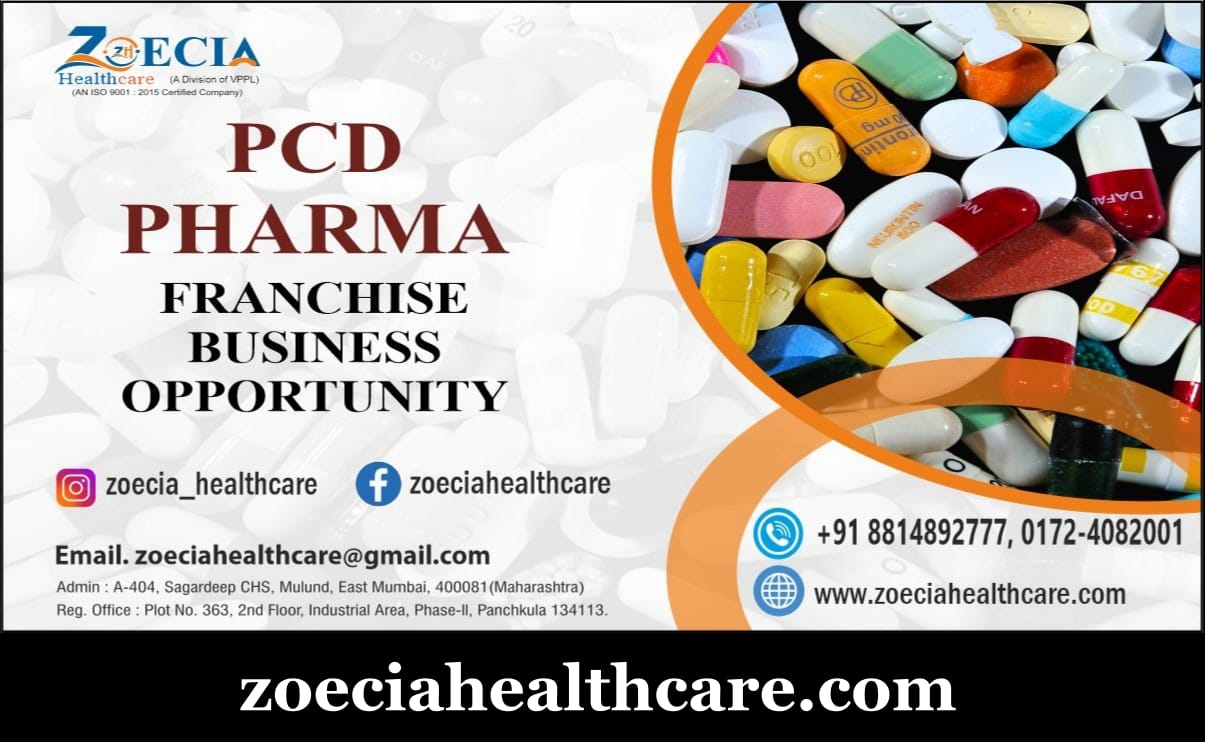 OUR OBJECTIVE
In India, Zoecia Healthcare is among the most dependable manufacturers and providers of pharmaceutical products. It stays ahead of the competition thanks to its customer-centric strategy, modern technology, and new medical solutions. The company has an Excise benefit that allows it to design, manufacture, and distribute pharmaceutical products and pharmaceutical ingredients at a cheaper cost.
ASSURANCE OF QUALITY
We are searching for a Pharma Franchise in India for a wide range of products. For sole marketing and distribution rights, a serious, devoted, and experienced person is invited. Zoecia Healthcare Pharma is the greatest Pharma PCD Company in India if you're seeking for a leading Pharma PCD Company or a Propaganda Company in Pharma. We are one of the leading PCD Pharmaceutical Companies in India, with PCD Pharma franchises available for a successful business.
OUR STAFF
Zoecia Healthcare features a staff of seasoned individuals who serve as the organization's backbone. These specialists are chosen based on their qualifications and expertise in the field. We have made steady progress toward our objectives thanks to their efforts and innovative approaches. These individuals collaborate to offer the highest quality pharmaceutical products.
ADVANTAGES OF WORKING WITH ZOECIA HEALTHCARE
We've taken advantage of every opportunity to reach out to more individuals throughout the world with our high-quality products.
A synchronised supply chain that takes advantage of our strong product development capabilities, cutting-edge manufacturing, and vertical integration with our own APIs has resulted in a solid track record of successful launches, with considerable market share in all of our core sectors.
Our open and strong partnerships with pharmacy chains, insurance funds, and other distributor networks enable us to keep our word to clients and patients around the world.
In India's highly regulated marketplaces, our offerings provide great quality at low pricing.
We are one of the top pharmaceutical firms in the world, with product families that are sold all over the world.
We are really interested in starting a new enterprise with value bonds in underserved areas, and we anticipate you to take advantage of the chance you have. Let's work together to go above and beyond your expectations in terms of quality of life for long-term commercial connections.
Franchise in the Pharmaceutical Industry
We are searching for a Pharma Franchise in India for a wide range of products. For sole marketing and distribution rights, a serious, devoted, and experienced person is invited.
PCD Pharma
For the designated unoccupied locations, we offer PCD Monopoly Rights. We trade and sell a wide range of DCGI-approved formulations such as tablets, capsules, and more.
Assurance of Quality
Our Quality Control and Quality Assurance systems are robust and well-developed.
Our products are quality tested at every stage of the process, from manufacture to packaging, to ensure that they are of the highest quality.
THIRD PARTY MANUFACTURING COMPANY
We contract manufacture a variety of pharmaceutical formulations and also have our own line of products manufactured at Zoecia Healthcare for the local market.
Our large-scale production capabilities, highly qualified production and quality control team, and state-of-the-art WHO-GMP certified manufacturing facility, when combined, provide an ideal environment for outsourcing or contract manufacturing pharmaceutical goods.
Please submit an Enquiry through Enquiry form for PCD pharma franchise and Third party manufacturing.