PCD Pharma Franchise in Haryana
Zoecia Healthcare offers real pharmaceutical products for pharma franchise and PCD pharma franchise in India. Our business, a leading provider of pharmaceutical franchises in India, is bringing you a PCD pharma franchise in Haryana. To provide you with the best business possibilities in northern India, we are one of the top pharmaceutical firms in Haryana. We have more than 350 medication formulations available that deliver superior outcomes.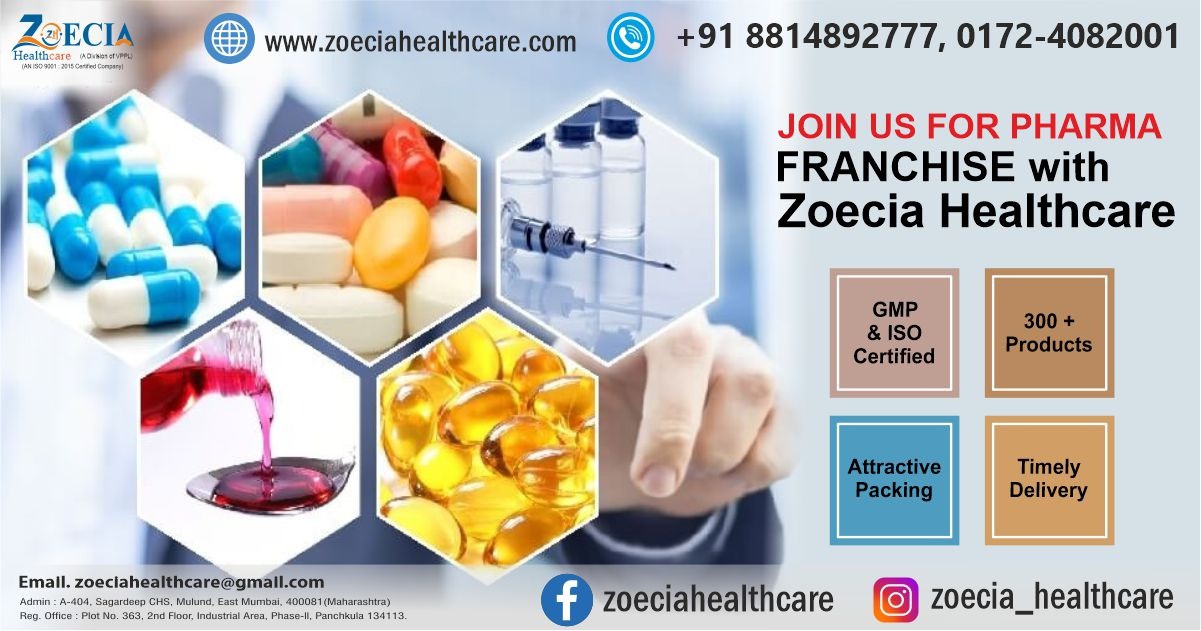 Haryana's pharmaceutical industry is expanding as demand increases year after year.
350+ different types of pharmaceuticals are offered by Zoecia Healthcare and are accessible for franchising. Our company has a reasonable price policy. In GMP-WHO facilities located in excise-free zones, the entire manufacturing process takes place. The ideal option to launch your own business is with a PCD pharma franchise in Haryana from Zoecia Healthcare.
We offer you a franchise arrangement that includes a number of benefits. Our product line, which includes pills, capsules, injection medications, syrups, powders, ointments, etc., is DCGI authorised.
Join Forces With Haryana's Best Pharma Franchise Company, Zoecia Healthcare
Zoecia Healthcare is a Haryana-based pharmaceutical company with an ISO certification. Our location in Haryana opens up an entirely new world of high-quality medicine formulations. In India, our business has provided the greatest pharmaceutical marketing services. In north India, we have a prestigious name. We have promised to offer medicines that satisfy the needs of the patients. The corporation owns more than 350 medications, all of which are provided to employees at the most competitive prices.
In India, Zoecia Healthcare is well-known for its pharmaceutical manufacturing services. We have a certain group of facilities that are located in excise duty-free areas. The quoted rates are accurate because of the cost-effective medicine manufacture. The medications are produced in accordance with the quality control standards that we uphold. Under the direction of professionals, they were created, processed, and tested. Experts with knowledge and experience are available to assist us in developing higher-quality medicine formulations. We are the ideal business to select for a franchise in Haryana at the most advantageous investment plans.
Why Choose the Top Pharma Franchise Company in India, Zoecia Healthcare?
We are India's top pharmaceutical company, bringing you superior business opportunities. There are more than 350 employees working in good strength for our organisation. As the best in the country, we are steadily advancing. As a franchise marketing business, we at Zoecia Healthcare have built strong brand recognition and goodwill. You embrace a wealth of benefits when you join our organisation. Examine a couple of the following:
Through assistance with promotional tools, you will receive marketing help.
You will receive regular medical updates from our firm.
real sales goals, and receive rewarding bonuses for doing so.
When you work with Zoecia Healthcare, the ROI is good.
Please fill out the inquiry form if you are interested in a PCD Pharma franchise or third-party production.