Zoecia Healthcare, a Pharma Franchise firm, is a well-known and respected brand in the industry. In Chandigarh, its neighboring states , we are one of the leading providers of a broad variety of high-quality pharmaceutical items. There are several reasons why we are one of India's fastest growing PCD Pharma companies.
Our founders have created the basis of a firm with a fantastic vision, extremely good ethics, and a systemized process-driven method of working, backed by more than 10 years of professional experience. Zoecia Healthcare is a company with a wide range of high quality Pharma products, including the latest DCGI molecules, and a robust system to deliver these through our franchisee partners to the end customers, thanks to that great vision, underlying mission, and zeal to have a best-in-class Pharma company.
ABOUT US
Zoecia Healthcare is a PCD Pharma franchise company.
Zoecia Healthcare is one of the fastest growing PCD Pharma franchise companies in Chandigarh.
Analgesics and NSAIDs, Anti-acids and Gastroenterology, Antibiotics, Anti-hack and Cold, Anti-malarial and Anti-Infectives, Anti-Ulcerative,  Gynecology, Genito-Urinary,  Multivitamins and Antioxidants, Neuro and Pschiatry,  Pediatrics, and Nutraceuticals are just some of the sections we Tablets, capsules, softgels, syrups, drops, ointments, granules, oils, and powders are some of the forms available. We are a group of trained and talented professionals who enable us to provide a high-quality assortment of pharmaceutical items. Our products are made with high-quality ingredients supplied from reputable manufacturers with GMP-certified and WHO-compliant facilities.
Zoecia Healthcare, a PCD Pharma Franchise firm based in Chandigarh, India, has adopted systematic logistics, storage, and quality control techniques in accordance with industry best practices. As a consequence, it can meet the needs of a wide range of customers throughout the nation.
This site acts as a one-stop solution for all our colleagues, including the capability of e-ordering, in addition to offering full information about us, our Vision, our Mission, our Promoters, our product variety, and our distribution system.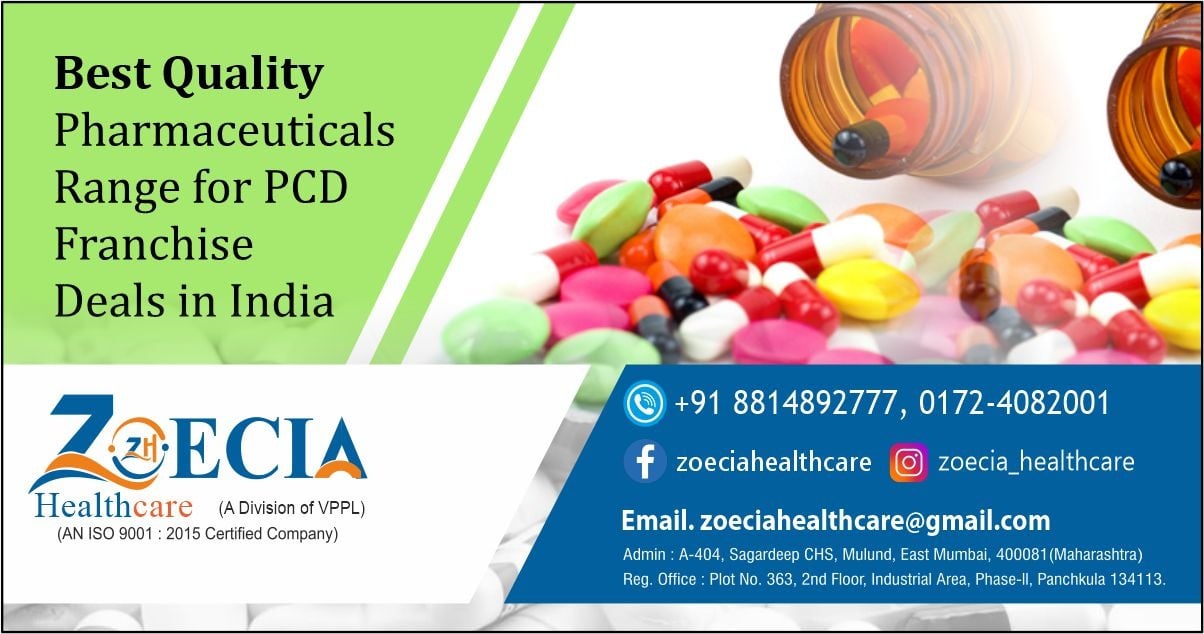 Why should you choose us ?
We are a GMP Certified PCD Pharma Company with a wonderful goal of manufacturing goods that are focused on increasing, extending, and revitalizing the quality of life among the people of the nation, with a broad selection of important and inexpensive medical items. Antibiotics, analgesics, gynecology, nutraceuticals, syrups/suspensions, injectables, and Ayurvedic preparations are among our specialties. We are establishing our own standards to be dubbed the top PCD Pharma firm by providing high visionaries in terms of the quality of our medicinal goods.
We have built a firm with a strong vision, strong ethics, and a systemized process-driven approach to work. Zoecia Healthcare is a company with a wide range of high quality Pharma products, including the latest DCGI molecules, and a robust system to deliver these through our franchisee partners to the end customers, thanks to that great vision, underlying mission, and zeal to have a best-in-class Pharma Franchise Company.
We invite skilled and experienced individuals as well as corporations from all over India to become Pharma Franchise distributors/ partners. If you are an M.R., ASM, or RSM who wishes to establish a company with even less capital, Zoecia Healthcare may provide you with Monopoly Marketing Rights on a Pharma PCD Franchise basis for your district/ cluster of districts. Pharma stockists, distributors, and C&F agents having strong ties to local Medical Practitioners, Physicians, or Surgeons are also invited to join Zoecia Healthcare in a lucrative and long-term PCD Pharma Franchise company.
Benefits of collaborating with us include:
We provide high-quality items with appealing packaging. These are made at reputable manufacturing facilities that have received ISO and GMP certifications and are known for their purity and precise composition.
There are no monthly goals that must be met. If you wish to incentivize your performance, you may set annual goals.
We strictly adhere to our monopoly rights and refuse any commercial inquiries from the protected region.
We provide advantageous options for bulk purchases, allowing you to build a larger company much faster.
We support our distributors by offering high-quality, fact-based advertising materials.
Once the payment is shown in our records or the invoice is approved for dispatch, we make sure to send the items within 24 hours and 100% dispatches within 48 hours.
We have a comprehensive team of specialists at your disposal to respond to your questions about goods, packaging, doses, orders, invoicing, taxes, dispatches, and/or logistics in a timely and accurate manner.
This site acts as a one-stop shop for all of our partners, complete with e-ordering capabilities.
OUR PRODUCT LINE
Tablets,
capsules,
softgels,
syrups,
drops,
ointments,
gels
powders.
Our product line is extensive, and it rivals any PCD Pharma firm in India in terms of variety.
Analgesics & NSAIDs,
Antibiotics,
Anthelmintics,
Anti-cough & Cold,
Anti-malarial & Anti-Infectives,
Anti-Ulcerative,
Gynecology,
Multivitamins & Antioxidants,
Neurology & Psychiatry,
Paediatrics, and
Nutraceuticals
Aids to Promotion
For the field assistance of the Pharma Franchise company, the following promotional aids are provided:
-Aid Visual (Folder)
-Glossary of Products
-LBLs (Long Base Lines) (Leave Behind Leaflets)
-Assortment of Catch Covers-Thank You/Reminder cards
OUR GOALS
To establish a reputation as a pharmaceutical company that produces high-quality herbal and pharmaceutical goods, as well as to build mutually beneficial long-term partnerships with suppliers, the pharmaceutical and healthcare community, and our field colleagues throughout the Indian subcontinent.
OUR PURPOSE
To present the broadest variety of formulas that satisfy the highest quality criteria.
Take a long-term strategy to developing deep markets on the Indian subcontinent, adhering to the highest ethical standards at all times.
OUR MISSION
Our mission is to provide society with the most creative and helpful compositions at the most cheap prices possible for everyone. A PCD pharmaceutical company's first obligation is to expand with the goal of improving product quality. As a result, we make every effort to devote our services to the health-care business.
We are India's top PCD Pharma Company because of our expert and high-quality services. If you're searching for a leading PCD franchise company in India, Zoecia Healthcare based in Chandigarh, is unquestionably one of the finest. We provide great marketing assistance with our Pharma Franchise.
We are always on the lookout for solutions to satisfy product needs, with all orders being fulfilled within the following 24 hours. We're looking for marketing specialists to help us expand our marketing and distribution rights to PCD Pharma Franchise Companies that are interested. Individuals and organisations from all walks of life are invited to join us as business partners.
Contract Manufacturing / Third-Party Manufacturing
Zoecia Healthcare is a leader in the area of pharmaceutical contract manufacturing and third-party manufacturing.
Today's businesses succeed by concentrating on what they do best and delegating the rest to others.
Contract manufacturing seems to be a natural match for this method. Contract manufacturing, in addition to enabling businesses to concentrate on their core strengths, has a number of additional benefits over in-house production, including flexibility, access to external knowledge, and lower capital requirements.
Zoecia Healthcare is known in the industry as a quality-driven company that follows strict protocols appropriate for the pharmaceutical sector in all of its operations, including Third Party Manufacturing.
We have partnerships with reputable GMP Certified/ That compliant suppliers who assist us in meeting our customers' quality product needs. We are popular option for Contract Manufacturing for our customers because of our expertise and understanding of Product Package Design and Printing.
Our suppliers' production facilities are in India's excise-free zones. As a result, we can offer marketing organizations reasonable costs for third-party goods.
Please submit an inquiry through inquiry form for pharma franchise business opportunity or third party manufacturing.