Top Pharma PCD company in Chandigarh
Zoecia Healthcare
The best PCD franchise prospects in India are provided by the pharmaceutical business Zoecia Healthcare. With manufacturing facilities that are WHO and GMP accredited and that produce more than 250 pharmaceuticals, we are an ISO PCD Pharma certified business. High-quality prescription medications are a given for us. We work with pharmacists who are employed by pharmaceutical franchises in every state in India.
One of the Top PCD Franchise Companies in Chandigarh is Zoecia HealthCare.
Working with industry leaders is the greatest method to obtain the best results! In the market, the name Zoecia HealthCare is well-known for its pharmaceutical services. Our product line is in high demand in Chandigarh, which is why we are here to present business prospects.
We have licenced dealers on staff who can assist you in improving your client experience in this state.
For the pharmaceutical franchise in our business, we have over 250 medications. For instance, these include the broadest range of PCD franchises we safeguard.
1. Tablets, capsules, etc
2. Softgels, capsules, etc.
3. Sweeteners
4. Oral suspensions,
5. Dry Syrups
6. Protein Supplements
7. Medicines for injection
8. Topical ointment
9. Cream and similar items
You can also use the PCD franchise in the speciality market. General, gynaecological, paediatric, nutraceutical, dermatological, cardiological, diabetic, etc. are a few examples of segments. The prices at Zoecia Healthcare are very reasonable, and you can choose from a wide selection of drugs.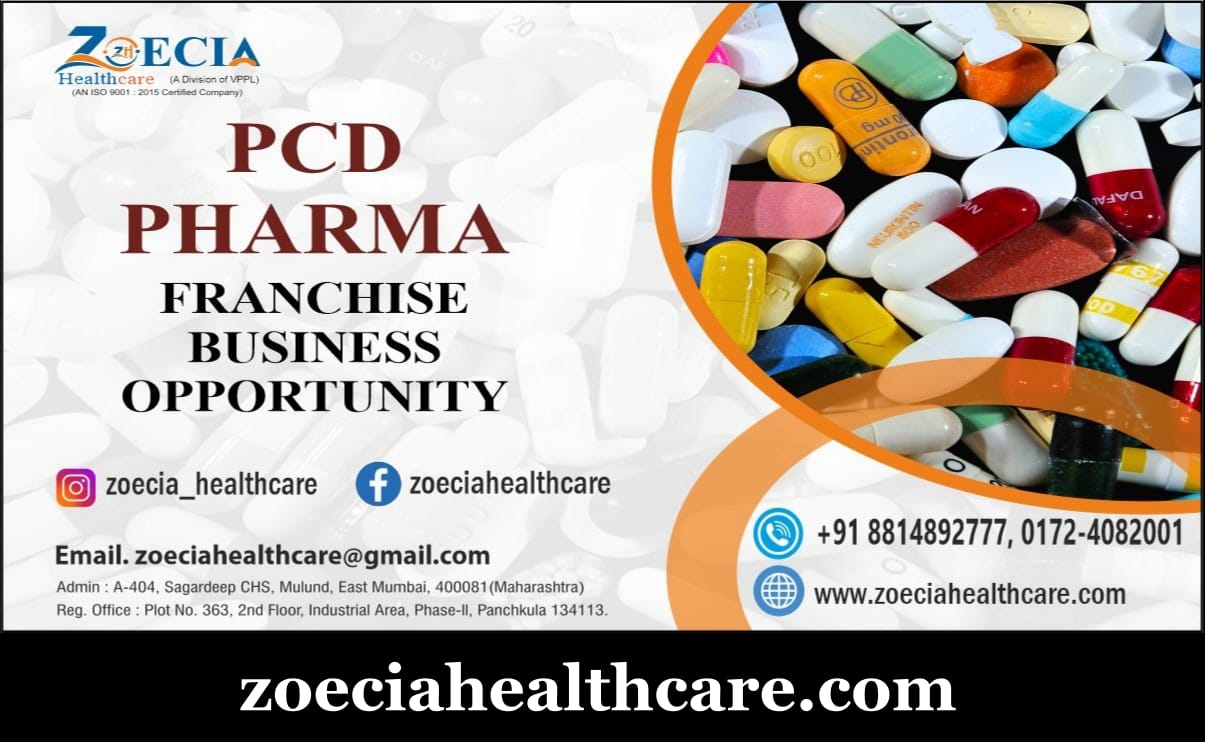 What Characterizes Zoecia HealthCare as the Best PCD Franchise Company?
Despite this, we search for a brand name for our company. We provide clients the best prices on manufacturing services in addition to effective marketing strategies. However, all of our medications have been produced in-house in accordance with the highest standards of quality. In actuality, professional experts have contributed to the consistent composition, improved consistency, and long-lasting formulations of pharmaceuticals.
Consequently, the following are the benefits of joining our franchise business:
Call for promotional tool pieces to improve marketing strategies.
Second, goods have GMP certification from ISO and the WHO.
Thirdly, DCGI-approved products..
Wider sales marketing place.
Franchise owners' main objective is to make sales.
The best technology is applied to product packaging.
Rich prizes and bonuses are available to qualified franchise owners.
All medical products have reasonable prices and a respectable profit margin.
All orders will be delivered quickly, guaranteed.
PCD Franchise Business Benefits
Associating with the PCD franchise business has a number of advantages, including the following:
For startups in the pharmaceutical industry, little funding is needed.
Working in it carries less risk.
No stress at work, plus you'll be working for yourself
Having a simultaneous affiliation with several groups will increase the chance for personal development.
Please submit an enquiry through enquiry form for PCD pharma franchise and third party manufacturing.