PCD pharmaceutical franchise in Punjab
WHAT WE DO
At Zoecia Healthcare, we never stop working to make sure that patients in need have access to high-quality, reasonably priced medications. Because of this, patients and healthcare professionals worldwide have trusted us.
Our overarching goal has always been and will always be caring for life. With the same goal in mind, we expanded our reach by offering over 250 medications in various dosage forms across numerous therapeutic categories. We are expanding our footprint in India's important marketplaces as part of our effort to make healthcare more accessible internationally.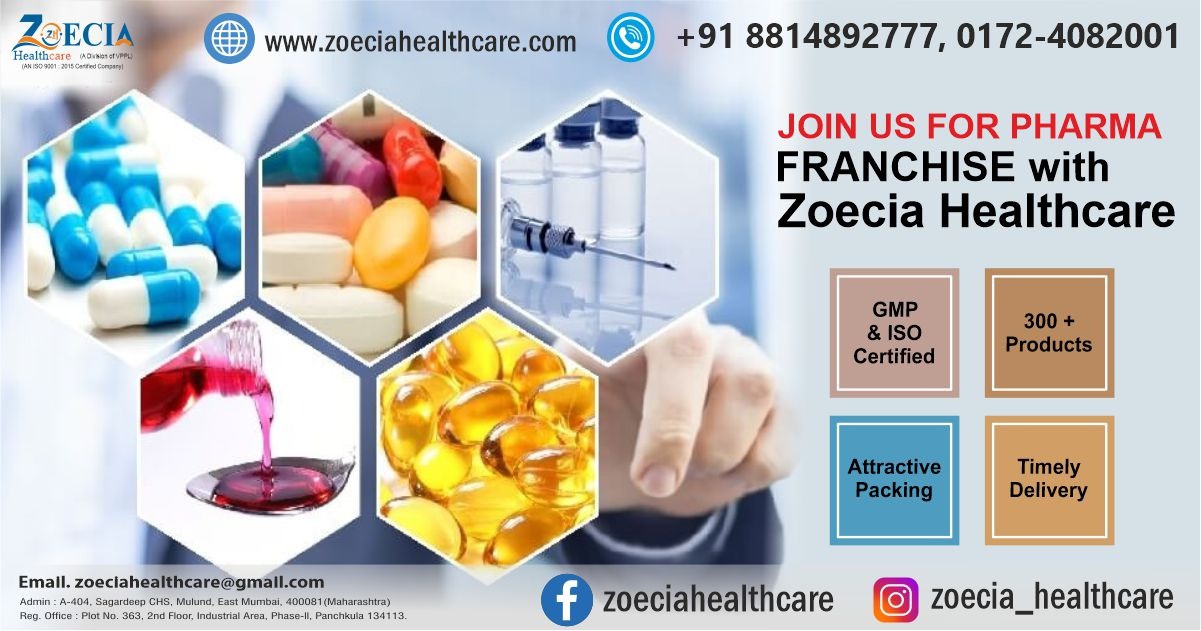 OUR PURPOSE
We are building a strong and dynamic brand that provides high-quality drugs at costs that are accessible to everyone by putting an emphasis on innovation and simplicity in both thought and action, taking responsibility for all markets, and maximising cost efficiency at every level. The cost-consciousness, willingness to take on responsibility, and inventive simplicity are the cornerstones of the Zoecia  Healthcare.
Cost-Consciousness:
In order to cut costs, Zoecia Healthcare was set up from the beginning to network, look for straightforward solutions, and make cost-benefit evaluations the cornerstone of all choices.
Taking Responsibility
In order to fulfil our obligation to society and provide many patients with cheap treatment, Zoecia Healthcare works hard. We take full ownership of our decisions and strive for genuine communication transparency.
WHAT WE SEE
Ingenious Simplicity
In difficult circumstances, Zoecia Healthcare is constantly seeking out clever, straightforward answers. We actively promote innovative thinking when confronted with difficulties. For a true win-win principle in contracting, we are not hesitant to collaborate with small businesses.
The values that our founder created and that we utilise in our day-to-day operations are reflected in the following statements:
We are renowned for providing affordable healthcare.
Success is based on quality.
Profit gives us access to resources.
The Zoecia Healthcare spirit is a real, powerful presence.
to achieve good results with less resources.
It is a privilege to take charge.
Our main guiding principle is innovative simplicity.
The unique Zoecia Healthcare approach.
Energy concentration is essential to our success.
There are still many things to be done. A wonderful future.
Top PCD Pharma Franchise Organization
The greatest PCD Pharma Franchise firm is Zoecia Healthcare. We are the greatest PCD Pharma franchise business operating over the entirety of India. We deal in High Quality Pharma Products that are WHO-GMP approved and are ISO certified. For the ideal PCD Pharma franchise business, where one may conduct business without opposition, we can offer monopoly rights.
Additionally, our business provides high incentives to its employees. We work with more than 200 pharmaceutical items.
Additionally, Zoecia Healthcare offers its employees complimentary promotional gifts.
General Product PCD Franchise
The fastest-growing pharmaceutical firm in India is Zoecia Healthcare, which creates, distributes, and markets high-quality pharmaceuticals with active ingredients. Our main goals when working are to provide excellent products and services. The best PCD pharma firm in Punjab is well-known as a hub of nimble professionals due to its array of services that reach every corner of the country.
We have opened the doors of opportunity to everyone who wishes to advance their business. Our goal in growing the PCD brand throughout all of India is to advance healthcare, not business. The company trades in a broad variety that is in high demand on the market. For better outcomes, medical professionals and doctors highly recommend our pharmaceutical line, which has undergone chemical testing.
You are given territorial rights by Zoecia Healthcare, enabling you to carry out your work without restriction in the area of your choice. We consistently work to protect healthcare through the appointment of committed distributors, which has made us the top choice of our clients. We have more than 11 years of expertise in the pharmaceutical industry and have helped hundreds of patients improve their health. You can achieve your pharma franchise business goals by partnering with our company.
You should pick us for the reasons listed below:
Collaboration in GMP and GLP Manufacturing
effective marketing tactics
Execution of orders within 24 hours
The FDA and DCGI have both certified our product line.
The offer of exclusive monopoly rights
According to market need, all items are updated and enhanced.
The best marketing support is offered to clients.
Franchise for PCD Pharma, a monopoly
You can select the location of your Allopathic PCD Pharma Franchise at will. You are authorised to launch your own firm under the law. Nobody other is permitted to open a business in your location. According to the policy guidelines established by the Company for Monopoly Business, they are permitted to open up shop outside of your boundary. We provide businesses with reduced upfront costs. The company offers a high rate of return on the cash invested. If you wish to join Zoecia Healthcare for Business, get in touch with us.
When operating as a monopoly-based Allopathic PCD Pharma Franchise in India or any other region of India, Zoecia Healthcare offers many advantages.
Here is a summary of a few advantages we offer:
Low initial business investment
There is no rivalry in the market.
Products with High Profits
Low Probability of Falls and Losses
Dependence on the Environment
Inspiring Rewards & Promotional Items
Please submit an enquiry through enquiry form for PCD Pharma franchise and third party manufacturing .